We survived AWS re:Invent.

Our knapsacks were full of water, hand sanitizer, and battery chargers. Our shoes: sensible. And our approach to getting the most out of the largest event in cloud computing was to experience all that it offered to the fullest, taking each day as an opportunity to absorb the knowledge.
AWS re:Invent 2019 happened in Las Vegas from December 1-6. As an AWS Consulting Partner, Vynyl joined 60,000 of our industry colleagues for the mega-event, which Amazon hosts to announce its latest Web Services innovations.
Like many events in Las Vegas, re:Invent spread out across multiple locations on the Strip. Our attitude to making sense of it all was a lot like our approach to wrangling complex cloud infrastructures: Vynyl relied on battle-tested knowledge from prior experience, a little help from our friends, and Amazon's comprehensive training to find the signals in the (electronic dance music) noise.
Here's our quick list of takeaways from AWS re:Invent 2019.

AWS CEO Andy Jasy's Tuesday keynote was a highlight of the event for the Vynyl team, as he introduced several exciting new technologies from the stage. He kicked off by talking about the history of the event, how companies transform themselves, and the importance of leadership in the process. Jasy identified four key leadership differentiators for companies that have successfully adapted to cloud technologies, including alignment of senior leadership, aggressive top-down goals, effective training, and creating a migration plan to avoid getting bogged down.
Per usual AWS re:Invent brought tons of product announcements. The Vynyl team took note of several in particular, including:

AWS Fargate for Amazon Elastic Kubernetes Service
What it is: Serverless compute for containers
What's cool about it: Fargate for EKS allows developers and ops teams to focus on the application itself and not worry about the exact number of resources you need provisioned for Fargate; the EKS platform takes care of that.
Amazon ECS Cluster Auto Scaling
What it is: Increases the speed and reliability of cluster scaling
What's cool about it: The biggest pain in the rear for ECS was scaling your tasks and services manually (for the most part), not being able to anticipate the current resource needs for your containers. With the autoscaling implementation, you can be confident you have the exact right resources for the services and tasks you are currently running, eliminating that major headache.
What it is: Configure a Virtual Private Cloud to send traffic to an EC2 instance before traffic reaches business workloads
What's cool about it: Previously, it was difficult and expensive to configure all traffic to flow through a security appliance. VPC ingress routing significantly simplifies the configuration and reduces the cognitive overhead of understanding how traffic is flowing in such a configuration. This will provide an advantage to our healthcare and financial services clients who have extensive security compliance requirements.
What it is: Optimizes compute resources using machine learning
What's cool about it: Amazon says that it "delivers intuitive and easily actionable AWS compute resource recommendations to help you quickly identify optimal AWS compute resources for your workloads without requiring specialized expertise or investing substantial time and money."
On Thursday, Dr. Warner Vogels, CTO of Amazon got the day started with a keynote focused on technical aspects of AWS, offering a behind-the-scenes look at some of the underlying tech. He dove into several topics, including the AWS Nitro System which is built for delivering flexibility, speed, security, and customer savings.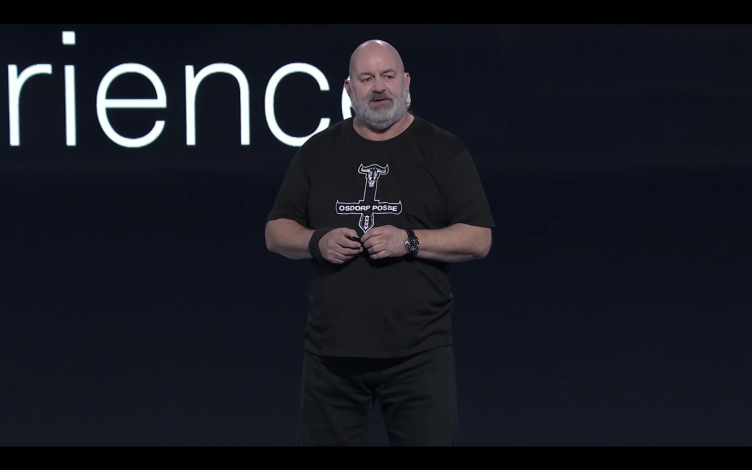 He also brought on Claire Ligori, principal software engineer, who spoke about AWS Fargate and Firecracker and the benefits of virtualization.

Another highlight was the introduction of the Amazon Builders Library, a set of living documents from Amazon technical staff covering architecture, software delivery, and operations.
And in between the keynotes and training sessions and product demos, we did ride a mechanical bull.